MAXI discovered a bright hard X-ray transient source at 04:33 UT on December 21, 2018 in the constellation Norma ( ATel #12320). The intensity was 209 +- 27 mCrab (4-10 keV). The Swift/BAT also detected it with flare-like behavior. There exists the 1309 second X-ray pulsar AX J1631.9-4752/IGR J16320-4751. But the MAXI intensity was about 10 times higher than the previous observations.
The Nu-STAR X-ray telescope made a follow-up observation on Dec.28 ( ATel #12340). The MAXI star was 0.21 degrees away from AX J1631.9-4752 (figure), and was found to be a new star. The name is MAXI J1631-479. The X-ray spectrum taken with the Nu-STAR indicates that MAXI J1631-479 would be a black hole binary. Then it is the fifth new black hole found with MAXI in 2018.

MAXI light curve of MAXI J1631-479. Taken from MAXI HP.
It became very bright, more than 1 Crab.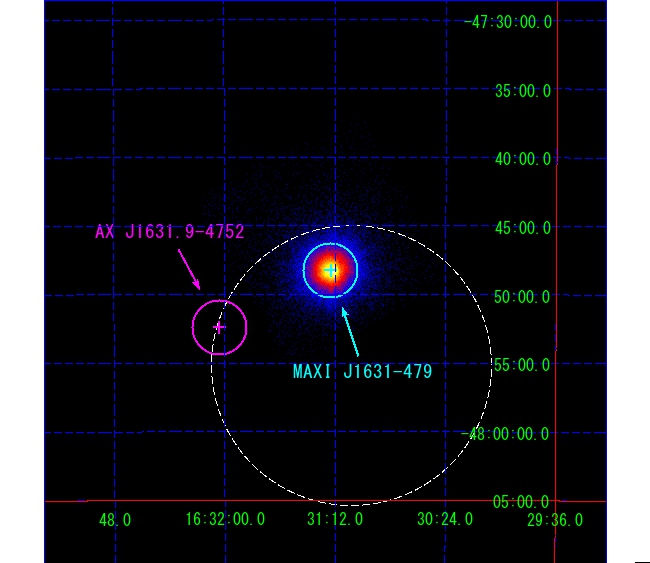 X-ray image taken with Nu-STAR X-ray telescope. White circle is the error circle which MAXI reported. AX J1631.9-4752 is in the error circle, but the new star is not AX J1631. MAXI J1631-479 is a new star.